Entertainment
The Con Game - The Dragon goblet of school of magic and wizardry
As usual in the school of magic and wizardry, each school year is enriched by a School goblet competition. Each school house, named after long forgotten spells (Skrzkrk, Juliolej, Řízdřív, Prokopro, Svištipišť, Tytrych), are competing against each other in the competition for a glory, renown, and the School goblet. The house with the most points at the end of the school year wins. The points can be obtained by participating in castle's activities, such as log bashing, rope towing, magical path through the castle's dungeons, mystery questions, castle's tower conquering, or Furditch matches. Attendees will be separated into their houses during the ceremony upon arrival, at the registration on site.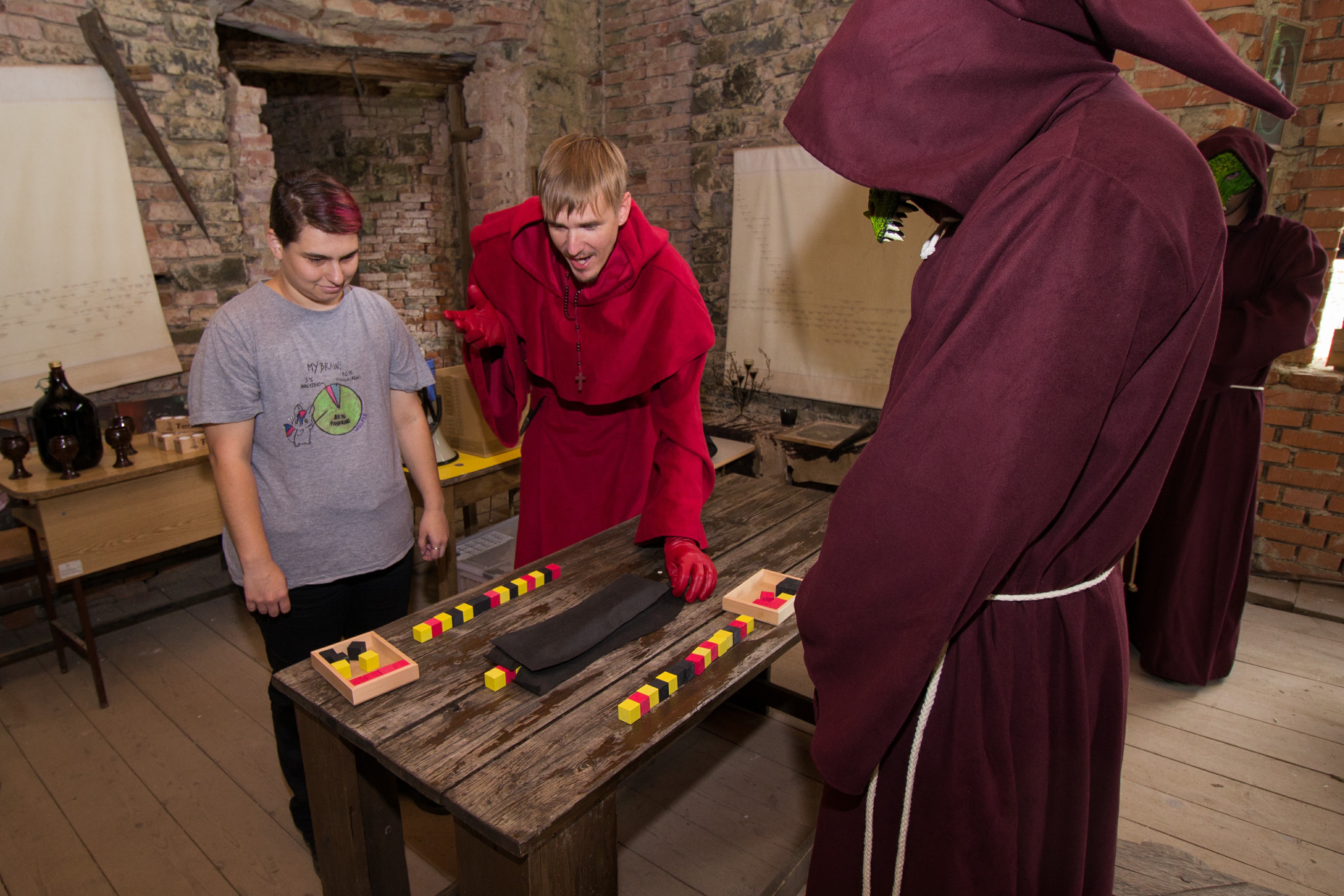 SHG Mortis
For your entertainment, noble knights from the Swordsmanship Historical Group Mortis will be at your side for the whole con. Pieces of historical armor, exhibitions of grand fights and knight's honor will be accompanying you for your whole time at the magical Hauenstein. Don't hesitate to talk to our knights, they sure won't bite you and they might show you something a little extra as well. The Mortis group will be also a part of the con game, The Keys of the Castle Lord.
Archery
Archery was a popular hunting sport in past times, often the only way of getting meat. Even though these times have mostly passed (and we definitely don't advise trying to shoot our peacocks), many of us are still interested in this beautiful practice - which you can now try at Furrstein! You will be led through a brief introduction to the basics of archery by Sofa, which will also lend you some of her bows (under the assistance of our helpers, to ensure safety of both of you and your immediate surroundings).
Castle's Thunderstorm
The Smuggles have entered the castle! Let's show them that even a wizardry furries can make a good fun! Even though we normally don't banish the smuggles from our school of wizardry and magic, on this year's Castle's Thunderstorm, that will take place on Saturday during the regular opening hours of the castle (from 10:00 to 17:00), they'll be able to see a truly magical event on their own. During that time, you (with other visitors of the castle) will have the possibility to try archery or mobile slingshot shooting, spectate falconers or the performance of our SHG Mortis or see Strašlivá podívaná (Terrible Spectacle) - medieval folk music band, which will accompany you during Saturday's afternoon. On that day, a group painting will also take place, so make sure there won't be any lunch leftovers on your robes.
Smuggle Furditch
Quidditch is a favorite game of all wizards. But what do the furry wizards play? Of course Furditch!
His rules are rather simplified, but not too different from regular Quidditch rules - each side of the playground has three circles (hoops on poles). For each Quaffle thrown through the hoops, the shooter receives ten points for his team. Players must remain on their broomsticks while in the game. If they get hit by a Bludger, thrown off or they simply fall of their broom, they must go drink the healing potion before returning to the game. In case of foul play, five points will be deducted from the fouling team's score. 
Each team has six players from one house.
First player is a Seeker. His goal is to find the Golden snitch, which is represented by a glass ball hidden in the grass before the start of the match.
Second player is a Beater. He stays on the sideline of the playground (either left or right) and tries to hit the members of the opposing team using a Bludger (a volleyball ball). Once a player is hit, he has to go drink a healing potion, only after that he can return to the game. The Beater cannot go into the field for the ball, it has to be carried back to him by one of his team members. He can also take out his own team members (hopefully only by accident) and has to use the ball of his team's color (blue or yellow).
Third player is a Keeper, which guards their team's poles (three circles for each side) from the opponents trying to score a goal.
The remaining three players are the Chasers, who try to throw the scarlet Quaffle (a rugby ball) through the opposite team's poles.
All players need to simulate a flight by holding a broom in at least one of their hands at all times. The game ends when the Golden snitch is caught.